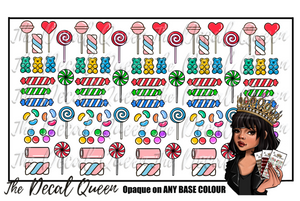 This decal is printed using revolutionary white ink technology, which means it will stay opaque over any nail base colour. ***No white base needed***
I pride myself on my decals being original hand drawn mini pieces of art, 100% handmade and of the highest quality.
Simply cut the decal close to the image, soak the decals for 30-40 seconds in lukewarm water, then slide the image off the backing sheet, onto the nail, seal with 2 coats of clear polish/uv gel.

MY hints and tips: I like to tuck the decal right into the sidewalls with my cuticle tool, then I gently melt away the excess decal using a small nail art brush dipped in acetone.
How long will the last???
💅🏻With regular nail polish, you can expect a few days, so perfect for temporary statement nails that will remove easily with nail polish remover.
💅🏻 With gel polish, you can expect 1-2 weeks, but professionally applied with gel polish, you can expect longer especially if they're sealed with a builder gel and a good quality topcoat gel.
💅🏻 With Acrylic, you can expect them to last until your next salon maintenance appointment.
I do hope you love my designs, if you don't see what your looking for, you can choose the custom decal listing and we can work together to create your perfect decal.